Thu., Nov. 15, 2012, 1:03 p.m.
Pancakes w/Side Of Obamacare Tax?
Fans of the Grand Slam breakfast, fear not. The Denny's franchise owner who told a reporter that he would be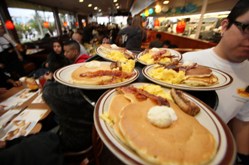 adding a 5 percent "Obamacare" surcharge to diners' meals has walked back that statement. John Metz, who owns around 40 Denny's and multiple Dairy Queen Locations in Florida, as well as a franchise called Hurricane Grill & Wings, made news and ruffled diner food fans' feathers when he told the Huffington Post that he planned to add a 5 percent surcharge at the start of next year in addition to cutting back some full-time employees to part time. His reasoning, he said, was that the measures are necessary to offset the costs of the Affordable Care Act, which goes into full effect in 2014/Kyle Blaine, ABC News. More here. (Photo: AP Business Wire)
Question: Would you frequent a restaurant that cut staff hours and added a 5% Obamacare tax surcharge?
---
---