Mon., Sept. 10, 2012
100 Attend McEuen Ground-Breaking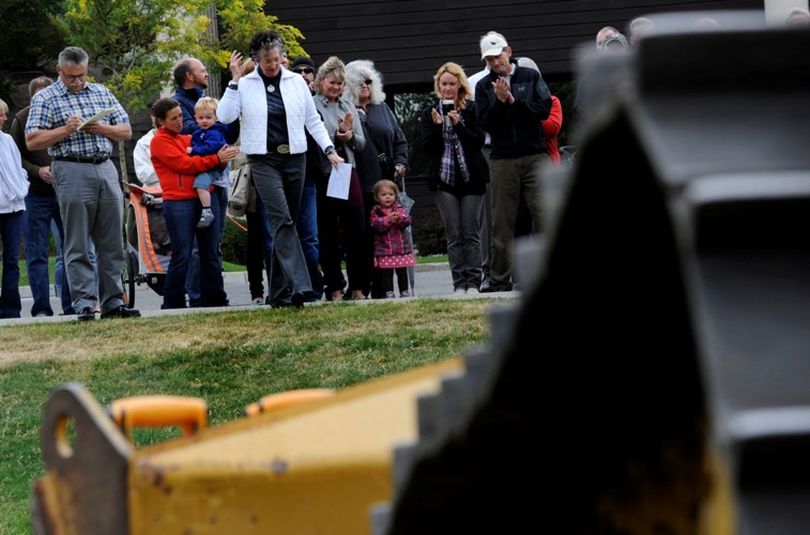 Mayor Sandi Bloem acknowledges the loud applause from the crowd as she walks to the microphone during ground-breaking ceremonies this morning. Do you see your Huckleberry Hound in the background. Also, the two women instrumental in stopping the recall effort against Mayor Bloem and three City Council members can be seen over Bloem's shoulders -- Sara Meyer (holding the baby) on the left and Jennifer Drake on the right.
For those keeping score at home, about 100 people showed up at City Hall at 10 o'clock this morning for the ground-breaking ceremony at McEuen Field. Mayor Sandi Bloem and two City Council members -- Mike Kennedy and Woody McEvers -- were there, along with two former council members, John Bruning and Al Hassell. None of the three council members who fought the makeover every step of the way -- Dan Gookin, Ron Edinger and Steve Adams -- attended the event. Also, there were no protesters. Bloem was greeted by loud applause, shouts and whistles as she delivered a short statement, culminating with the statement: "This took courage, it took passion and it took endurance." 4 piece of heavy equipment were sitting in the right field area of the old McEuen softball field No. 1 as Bloem and 10 others with shovels tossed a symbolic shovel full of dirt to launch the project that is now 27 months in the making.
Question: Does the McEuen Field ground-breaking ceremony make you happy or sad?
---
---