Mon., Sept. 10, 2012, 8:10 a.m.
Obamacare Would Save Idaho Millions
Every Tuesday morning at 9, they file in, some crying, some defiant – all with big medical bills they can't pay, pleading with Kootenai County commissioners for help. "It's at times frustrating, and at times gut-wrenching,"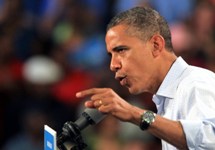 said Commissioner Dan Green, "especially when I have people that really need the help and then they don't qualify for the program. And then I see people that we are forced to help that think it's some sort of entitlement." The emotional scene is played out in each of Idaho's 44 counties, which state law makes the last resort for uninsured patients who can't pay their medical bills. Idaho's unique system for paying the catastrophic medical bills of indigent patients – which relies solely on local property taxes and the state's general fund – makes it the state that would possibly benefit the most from the expansion of Medicaid under the federal Affordable Care Act. The legislation would expand the federal-state medical insurance program for the poor to cover the same population that now is at the mercy of county commissioners, and do it almost entirely with federal money/Betsy Russell, Eye On Boise. More here. (AP photo)
Question: So should Idaho continue to follow those opposed to Supreme Court-approved Obamacare? Or embrace the program and save the state and county millions of dollars?
---
---