Wed., Sept. 19, 2012, 8:43 a.m.
Parents Rally For Another IB Program
Time may be running out for the controversial Primary Years Programme at Hayden Meadows Elementary School, despite support shown at recent school board meetings by parents and educators who laud the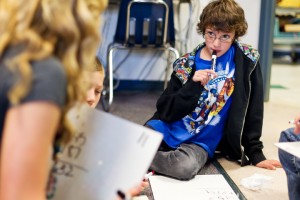 program. "My children have blossomed and thrived ... We just came here in January and the difference that I have seen in each one of my children is remarkable," said parent Ashlie Unruh, speaking to district trustees at the Sept. 10 school board meeting. Unruh was among several parents who testified at the meeting, expressing concern about the future of the district's "schools of choice," especially PYP at Hayden Meadows. Dozens of other parents observed the meeting, many showing their support by wearing pro-PYP T-shirts/Maureen Dolan, Coeur d'Alene Press. More here. (Shawn Gust Coeur d'Alene Press photo: Josh Helwich, a fifth grade student at Hayden Meadows Elementary School, listens to a high school mentor Tuesday during his core math class)
Question: Is School Board Chairman Tom Hamilton saying that the board has decided to rush this through rather than take a measured approach to the Primary Years Programme because unnamed families feel intimidated by the popular support for the program? Really?
---
---