Thu., Sept. 20, 2012, 1:09 p.m.
Heaths Write About 'Our Sarah'
Sarah Palin fans will have a chance to meet her father, Chuck Heath, and her brother, Chuck Jr., at Hastings on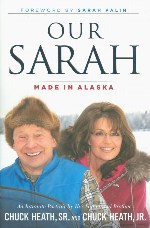 Appleway for a book signing at 6:30 p.m. Monday, Oct. 8. The Heaths are signing their new book, "Our Sarah: Made in Alaska." According to a news release: "The glimpse you will see in this book is that of the real Sarah Palin—the Sarah we know and love, not the one created by the national media." The release goes on to say: Our Sarah: Made in Alaska (Center Street/Hachette Book Group, September 2012) is more than a memoir, it is a survival story of a family who braved the harsh terrain and climate of Alaska, rolled up their sleeves and built a better life. That struggle, and this family helped create the first female governor of Alaska and the political superstar we know today." (Barnes & Nobel photo of "Our Sarah" book cover)
Question: Did you read "Going Rogue"? Did you attend the book-signings featuring Sarah Palin in Coeur d'Alene and Sandpoint in December 2009? Are you interested in this book by her father and her brother?
---
---