Thu., April 18, 2013
Rusche: NRA MIA On Mental Health
Rep. John Rusche, D-Lewiston, in Huckleberries comments section (re: Obama on gun vote: 'Shameful day'): But in the Legislature and the Governor's budget this year spending for mental health services was decreased over the year before, and millions under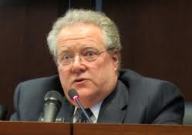 pre-recession levels. Health and Welfare has withdrawn MH workers from all except our urban areas due to budget restrictions, county jails and prisons are now the largest provider of mental health services in the State. We stopped funding for behavioral counselors in our schools. I tend to agree that the amendment would not have done much, but in spite of the loud cries from the NRA and pro-gun advocates that better mental health services are needed, we are making no progress. I would like to see the NRA put some effort behind improving mental health services. More below. (StateImpact file photo)
Question: Do you think the NRA should use its considerable grass-roots clout to lobby for more funding for mental health services?
They have a strong grass roots organization and no hesitancy to call out legislators they disagree with. What about calling out those who refuse to support improved care for the mentally ill?
Gun violence and gun deaths ini Idaho are a mental health problem. 85-90% of the firearm deaths each year are suicides, usually with a handgun. Domestic violence homicide and "death by cop" make up another 7%-10 or so. Improved mental health services in our communities could go a long way to reducing gun deaths.
---
---