Fri., Aug. 2, 2013, 8:45 a.m.
Washington Obamacare: Costs Lower
What will Obamacare cost, and who will it help? In Washington state, where final rates emerged this week, it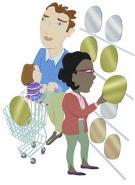 will cost less, cover more people, and provide more comprehensive benefits than consumers get today. On Thursday, the office of state Insurance Commissioner Mike Kreidler announced its final decisions on the rates and policies to be offered for sale on Washington's new insurance-selling website, the Health Plan Finder. Located at http://www.wahealthplanfinder.org, the site is already running. The new rates are not on it yet, however, and insurance sales will not begin until Oct. 1. The policies it sells will take effect starting Jan. 1/John Webster, SR. More here. (SR illustration)
Question: Is it possible that Republicans are wrong about Obamacare? Less cost? More covered? Hmm.
---
---