Thu., Aug. 29, 2013, 1:03 p.m.
Update: CPD Officer In Shooting ID'd
Coeur d'Alene Police Chief Wayne Longo said Thursday that Officer Spencer Mortensen, a six-year veteran of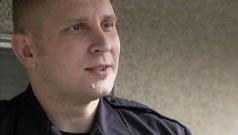 the force, is the officer who shot and killed Eric B. Johnston on Sunday morning in an apartment near downtown. Johnston, 35, a Dalton Gardens resident, died from multiple gunshot wounds. A friend who had been in the apartment with him moments earlier said Johnston had been holding a kitchen knife to himself. Mortensen was in the news three years ago as one of four Coeur d'Alene police officers credited with rescuing a woman from a burning building. He received a department commendation for his response in that incident. Earlier this year he helped apprehend arson suspect Clark E. Richman of Denver, Colo., at a fire near Kootenai Health. Richman pulled a knife on Mortensen in the dark, and the officer drew his service revolver and ordered Richman to drop the knife. Mortensen held the suspect at bay until backup arrived/Scott Maben, SR. More here.
Thoughts?
---
---