Tue., Dec. 10, 2013, 9:36 a.m.
Dem Candidate Worth Millions
A.J. Balukoff — who earlier disclosed his net worth at between $40 million and $50 million — says his wife's inheritance is worth another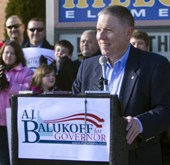 $20 million. Balukoff announced his campaign for governor last week and says he's voluntarily revealing his family's worth "because I don't want a discussion of personal wealth to distract from the real issues of my campaign." The part-owner of the Idaho Steelheads, Grove Hotel, CenturyLink Arena and other buildings says he will help fund his campaign but hasn't decided how much to spend. "At this point, it is more of a guiding principle: I want this to be a shared effort." Why did Balukoff answer the Statesman's questions about his finances so swiftly and in such detail? Balukoff noted how 2012 GOP presidential nominee Mitt Romney was dogged by questions about his wealth/Dan Popkey, Idaho Statesman. More here. (AP photo)
Question: Does it matter to you how much a candidate for governor, Congress or president is worth?
---
---