Fri., Feb. 15, 2013
Trib: Just Trust Pearce? Really?
JEERS ... to Idaho Senate Resources and Conservation Chairman Monty J. Pearce (pictured), R-New Plymouth. In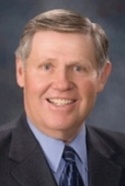 leading the Senate's 19-16 drive to oust Idaho Fish and Game Commissioner Joan Hurlock of Buhl, Pearce said something you never should tolerate from any elected official: "Just trust us." Pearce said he couldn't say all he knows about Hurlock. What could that be? ... Gender? Pearce apparently urged only the second female Fish and Game commissioner to step aside and, instead, seek a seat on the state nursing board. Could it be this? Hurlock supported renegade Republican Rex Rammell - who challenged Gov. C.L. (Butch) Otter, the man who appointed her/Marty Trillhaase, Lewiston Tribune. More here.
Question: Do you plan to ask Kootenai County's three GOP state senators (John Goedde, Bob Nonini and Steve Vick) why they joined "Just Trust Us" Pearce in casting key votes against only the second woman ever to serve on the Fish & Game Commission?
---
---