Tue., July 2, 2013
New Trustees Shake Up Leadership
The conservative grip loosened Monday on the Coeur d'Alene School Board after a threesome of new board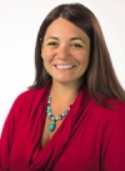 members were sworn in to their elected positions and quickly took control. Moments after the new trustees – Christa Hazel (pictured), Dave Eubanks and Tom Hearn – took their oaths, Eubanks nominated Hearn to serve as the board's chairman and Hazel to serve as vice chair. Both were selected by the board's new majority bloc, whose members also are Republican but describe themselves as moderates. The sudden change in leadership was nearly as abrupt as a year ago, when now-former board Chairman Tom Hamilton and now-former Vice Chair Terri Seymour took their positions. Hamilton and Seymour, halfway through their terms, were serving with three other conservatives appointed in the past 12 months to fill vacancies/Jody Lawrence-Turner, SR. More here.
DFO: I'm amused re: how hard the Hard Right tried to keep Christa Hazel off the School Board -- and now she's the vice chairman. Hats off to Christa for hanging in there.
Question: Do you approve/disapprove of the new leadership on the Coeur d'Alene School Board?
---
---