Thu., July 11, 2013, 3:12 p.m.
Carlson: Should Democrats Bother?
News flash: Republicans will sweep all the statewide and federal offices on the 2014 ballot. No follower of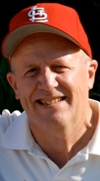 Idaho politics will be stunned by this statement, nor will any disagree. Neither should this be taken as a criticism of the Democratic Party's relatively new chairman, Larry Kenck. He knows the process of his party returning to parity with the GOP will take years of basic precinct level grunt work. Privately, he would probably concede the Democrat's poor prospects because he has been around long enough to know that party's can provide some organization, some funding, and ancillary services such as media training and marketing support. But, party organizations seldom produce the most important ingredient – quality, competent individuals with a driving passion to effect change/Chris Carlson, The Carlson Chronicle. More here.
Question: What benefit is there in Idaho Democrats producing candidates to serve as cannon fodder to those from the dominant Republican Party?
---
---