Mon., July 15, 2013, 8:41 a.m.
Obamacare Boosts Breast Feeding
Amber Williams has joined the ranks of working moms. Williams, whose daughter, Isabelle, is 4 months old,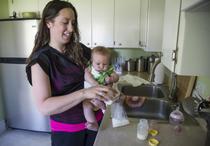 recently returned to her job as manager of a Spokane bank, where she takes short breaks throughout the workday to express breast milk for her daughter. Many moms like her stand to benefit from a provision of the Affordable Care Act that requires insurers to cover the costs of renting or purchasing breastfeeding supplies, plus support and counseling. Williams' insurance covered her double electric pump, which would have cost hundreds of dollars out of pocket. "It was huge," she said. "It was a big relief and, of course, it freed up money to buy the other big things that insurance doesn't pay for"/Chelsea Bannach, SR. More here. (Colin Mulvany SR photo: Amber Williams, with her daughter, Isabelle, prepares her breast milk to be stored in the freezer for later feedings)
Thoughts?
---
---