Thu., July 18, 2013, 5:02 p.m.
Detroit Files Bankruptcy
Detroit on Thursday became the largest city in U.S. history to file for bankruptcy, as the state-appointed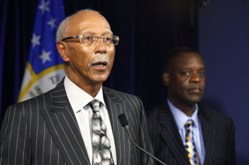 emergency manager filed for Chapter 9 protection. Kevin Orr, a bankruptcy expert, was hired by the state in March to lead Detroit out of a fiscal free-fall and made the filing Thursday in federal bankruptcy court. A number of factors — most notably steep population and tax base falls — have been blamed on Detroit's tumble toward insolvency. Detroit lost a quarter-million residents between 2000 and 2010. A population that in the 1950s reached 1.8 million is struggling to stay above 700,000. Much of the middle-class and scores of businesses also have fled Detroit, taking their tax dollars with them/Associated Press. More here. (AP photo: Detroit Mayor Dave Bing, left, at a news conference today)
Thoughts?
---
---