Tue., July 30, 2013, 1:07 p.m.
Court: NYC Soda Ban Unconstitutional
New York City's crackdown on big, sugary sodas is staying on ice. An appeals court ruled Tuesday that the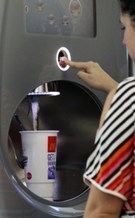 city's Board of Health exceeded its legal authority and acted unconstitutionally when it tried to put a size limit on soft drinks served in city restaurants. In a unanimous opinion, the four-judge panel of the state Supreme Court Appellate Division said that the health board was acting too much like a legislature when it created the limit, which would have stopped sales of non-diet soda and other sugar-laden beverages in containers bigger than 16 ounces. The judges wrote that while the board had the power to ban "inherently harmful" foodstuffs from being served to the public, sweetened beverages didn't fall into that category/Associated Press. More here. (AP file photo)
Question: Which soda is your favorite type? How much of it do you drink?
---
---