Tue., July 30, 2013, 1:19 p.m.
IFF: Big Brother Watching … In Idaho
After Edward Snowden revealed that American phone records were under federal surveillance, the former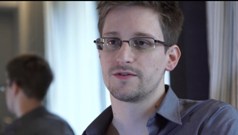 Homeland Security chief explained to news stations the need for such a program thusly: Searching for terrorists is like finding a needle in a haystack. Phone records are haystacks. No haystack, no needle. Turns out, we're nothing but haystacks to the government. A couple of stories from IdahoReporter.com in recent days illustrate the point. Police departments in Idaho, having received federal grants to do so, have been systematically recording license plate information of passing vehicles—vehicles of people presumably innocent of any crime. Coeur d'Alene, Post Falls and Idaho Falls all use technology that reads license plates of passing cars and stores the record in a database/Wayne Hoffman, Idaho Freedom Foundation. More here. (AP file photo: Edward Snowden in Hong Kong)
Question: Do you feel as though you're being watched?
---
---