Tue., July 30, 2013, 5:01 p.m.
Private Guilty 19/21 Wikileaks Counts
Bradley Manning, the Army private who sent hundreds of thousands of secret U.S. government documents to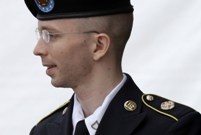 WikiLeaks, was found not guilty on Tuesday of the most serious charge against him -- aiding the enemy -- but guilty of several other charges at a military trial in Fort Meade, Md. Conviction on aiding the enemy carried a possible sentence of life in prison without parole. Col. Denise Lind, the military judge in the case, made the ruling. Manning had requested that a judge, not a jury, determine the verdict against him. Lind found Manning guilty of 19 of 21 charges, including five counts of theft, six counts of espionage, a computer fraud charge and other military infractions. Manning's sentencing hearing is set to begin Wednesday. He still faces a potential 128 years in prison if he receives the maximum sentence for the charges on which he was convicted/USA Today. More here. (AP file photo)
Question: Do you agree/disagree with the verdicts?
---
---