Wed., July 31, 2013, 1:14 p.m.
Blue Book Touts Bill, Tony & Norm
For all the Idaho Political junkies, The Idaho Blue Book, published by the Idaho Secretary of State, is the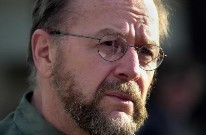 starting place for any research on state government, with biographical information of all state and county office holders, stats and historical information for all state institutions, and pictures suitable for meme-ing. Of interest in this latest edition is the dedication to three stalwarts in advocacy for Human Rights in Idaho, Bill Wassmuth (pictured), Tony Stewart, and Norman Gissel, who organized and confronted the Aryan Nations in North Idaho. Take some time to read this great dedication and kudos to Ben for honoring these great Idahoans while working with a Governor who attempted to dismantle the Idaho Human Rights Commission/Sisyphus' Blog.
DFO: I consider myself privileged to have known Bill Wassmuth well and to have reported on the Kootenai County Task Force on Human Relations, beginning with its revitalilzation under Bill in the early 1980s.
Question: Did you know Bill Wassmuth?
---
---