Tue., June 4, 2013
Idaho D's Have Candidates Awaiting
Democrats have three or four potential candidates for governor, and another three or four people looking at a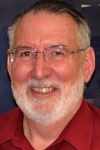 run for superintendent of public instruction, state party chairman Larry Kenck says. "I am really amazed and excited," Kenck told Idaho Education News on Tuesday. "It's going to be a very good election season." But if you want names, you're going to have to wait for some other day. Last week, Kenck called out Gov. Butch Otter and state superintendent Tom Luna, saying the Republican incumbents have "embraced a sink-or-swim approach to education"/Kevin Richert, The EDge. More here.
DFO: As you know, Duane Rasmussen does a superb job producing photos for HBO, including many of Republican events. I doubt that Duane, the good conservative that he is, can bring himself to cover Democratic events. Yet, I'd like to get photos from Democratic events, if anyone is willing to provide good ones for me.
Question: Who would be a good Democratic candidate for governor? Superintendent of schools?
---
---