Thu., June 6, 2013, 9:20 a.m.
Idaho Wines Coming Of Age
Idaho's wine industry is finally coming of age — and overcoming a haunting slight by none other than The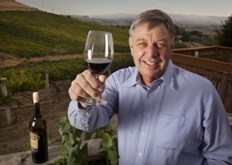 Muppets. June marks the fourth annual Idaho Wine Month. This year, it is making progress thanks to wineries, restaurants, retailers and wholesalers. That support comes all the way from the Capitol, as Gov. Butch Otter is even making appearances at stores to sign bottles of Idaho wine. "We've come a long way," said Moya Shatz Dolsby, executive director of the Idaho Wine Commission. "In 2002, there were 11 wineries." Today, the number of producers from Sandpoint to Twin Falls is 50/Andy Perdue & Eric Degerman, Yakima Herald. More here. (AP file photo: Ron Bitner, a grape and wine producer enjoys a glass of Shiraz-Cabernet Sauvignon at his vineyard near Marsing)
Question: What is your favorite brand/type of wine?
---
---