Wed., Sept. 11, 2013, 1:20 p.m.
2 Hats To Remember 9/11 By
On her End Notes blog, Catherine Johnston posted the following re: 9/11:
"In the weeks after the 9/11 attacks, The Port of Seattle Police Department sold hats to raise money for the Port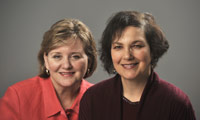 Authority Police Department Benevolent Fund in New York/New Jersey. That department lost 37 officers in the attacks. Each hat had the name of one officer who died Sept. 11. At the time, my husband was part of the POSPD canine unit; he bought a hat with the name Sirius on it. Sirius was the PAPD police dog killed at the World Trade Center. My husband also bought a hat for me with the name Paul Jurgens on it. Paul's children are now grown - young adults I have never met, but I wear a hat with their father's name on it. The hat has become a sacred object of remembrance of one man's heroic gesture: saving others' lives as he sacrificed his own." More here.
Question: Is there anything you do to remember 9/11 year round?
---
---