Wed., Sept. 11, 2013, 4:04 p.m.
Carlson: Labrador Trying Out For Job
It's too bad more voters in Idaho's First Congressional District don't tune in the venerable, long-running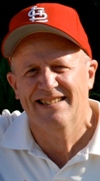 Sunday morning news interview program, Meet the Press. If they did they would see their relatively new congressional representative, Raul Labrador, at his patronizingly worst, shamelessly hawking himself to the right wing pooh-bahs inside the beltway who handout those $2 million a year executive director positions at their "think tanks" and foundations. How else can one begin to understand what motivated the Tea Party favorite in his 6th appearance in a remarkably short time span to offer the gratuitous advice to the nation's black leadership to renew the politics of hope, as Dr. Martin Luther King did, rather than continuing to follow the politics of despair?/Chris Carlson, Carlson Chronicles. More here.
Question: Do you think Congressman Raul Labrador is angling to snag a high-paying executive job with one of the nation's conservative think tanks, as Carlson contends?
---
---