Tue., Sept. 17, 2013
Dogwalk: Warning Signs Were There
In her post today, Dogwalk Musings wonders if we are allowing too much privacy to individuals who are "a little off":
I think the debate needs to go back to privacy issues. How many of us have met people who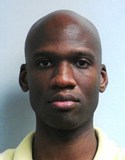 seem just a little off to us. Maybe something we can't quite put our finger on but off putting never-the-less. Should we pay a little more attention? Or shy away which is the more natural instinct? Every man on that list (James, Holmes, Adam Lanza, Jared Loughner, Nidal Hasan and now Aaron Alexis, pictured) had red flags flapping in the faces of their acquaintances, bosses, friends and many times even family. Yet nothing was done to forewarn authorities or their work places. They just slipped through the cracks pretty much unnoticed until they struck. Each and every one could have been stopped before it got to that point but weren't. Political correctness? Or discomfort with the situation? Sometimes I wonder if people like this are crying for help with their oddities just as a potential suicide victim does when he threatens to kill himself. I don't know/Dogwalk Musings. More here.
Question: Will our desire for security cause us to relinguish our freedoms?
---
---