Tue., Sept. 17, 2013, 4:55 p.m.
Johnson: In Love With My Royal
More than 30 years ago, as occasionally happens, I was in the right place at the right time. I invested $20 in a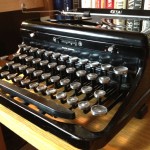 piece of writing history – a 1935 vintage Royal portable typewriter. In the intervening three decades I have schlepped my Royal from one address to the next, long ago having put aside any pretense of actually using the machine that I had once envisioned employing, Dashiell Hammett-like, to write a sparse novel about a hard boiled, but loveable detective. My Royal quietly collected dust, became a joke for those who noticed it sitting on my desk – "pretty old school, Johnson" – and an object of genuine curiosity for any person under 30. Tom Hanks – the actor Tom Hanks – prompted me to fall in love again with my Royal/Marc Johnson, The Johnson Report. More here.
Question: Do you still have -- and possibly use -- an old typewriter at home?
---
---