Tue., Sept. 17, 2013, 2:55 p.m.
OTV Review: Salads
So. I haven't really been out to eat much lately, and I don't have an actual review in me at the moment, so I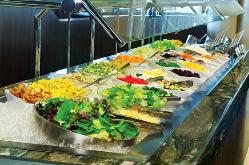 thought I would scour the menus of North Idaho and start a new blog series: "North Idaho's Most Interesting...". You can say the ellipsis out loud if you'd like, "dot dot dot". Let's start with salads. Join me, shall you? Salad bars have been slowly going the way of the dodo for several decades now, but don't tell that to the kids at Dockside (CdA Resort). $10.99 really isn't a bad tab for 18 feet of pure salad bar excitement. Their website has this teaser of a tidbit: "We use fresh and organic ingredients for our 'From Scratch' salads, a large selection of dressings and 'Follow the Harvest' seasonal ingredients from our local farmers"/OrangeTV, Get Out! North Idaho. More here.
Question: Which restaruant provides the best salad(s) in North Idaho?
---
---