Tue., Sept. 17, 2013, 9:57 a.m.
Putting Service Back In Gas Stations
Tom Paschane (pictured in Coeur d'Alene Press photo) is going to put "service" back in "station." The general manager of three area Chevron stations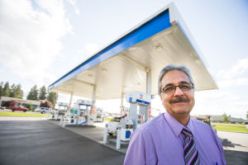 emphatically answered a senior's call for help at the pumps when the weather gets bad this winter. Paschane said he'll start with the Chevron station on the northeast corner of U.S. 95 and Honeysuckle Avenue in Hayden, and held open the possibility that a Chevron station in Coeur d'Alene might eventually join the fun. "That's what struck me - the need," Paschane said Monday, a day after a letter to the editor from 89-year-old Hayden Lake resident Marion Walker asked for help pumping gas in nasty weather. "I want to fulfill that need, and this is one of the little things we can do for folks." "I think that's fabulous," Walker said Monday when told of Paschane's and Chevron's commitment. "It just burns me to get out there in the winter and walk on all that ice, and I know a lot of other seniors who feel the same way"/Mike Patrick, Coeur d'Alene Press. More here.
Question: Would you be more likely to go to a gas station that provided attendants to wash windows, check tires and pump your gas?
---
---