Thu., Sept. 19, 2013
Is Seattle Coach Carroll 9/11 Truther?
The sit-down between (retired general Peter) Chiarelli and (Seattle coach Pete) Carroll started off normally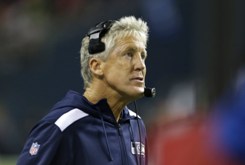 enough. They talked about the team, and then about head trauma. Chiarelli, who commanded the American forces in Iraq during Operation Iraqi Freedom II, talked about the brain injuries he had seen there. But Chiarelli's mention of Iraq sent Carroll in another direction: He wanted to know if the September 11 attacks had been planned or faked by the United States government. In particular, Carroll wanted to know whether the attack on the Pentagon had really happened. Chiarelli—who was the top-ranking Army official inside the Pentagon when American Airlines Flight 77 crashed into its western side—explained that it had. He said he had lost many colleagues. But Carroll didn't stop there. He ran through the whole 9/11 truther litany/Jack Dickey, Deadspin. More here.
Thoughts?
---
---