Mon., Sept. 23, 2013, 2:23 p.m.
Widmyer Owns Press Word 'Mayor'
Coeur d'Alene businessman Steve Widmyer isn't mayor. Not yet. But for now, in the Coeur d'Alene Press, he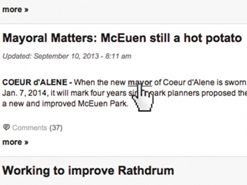 owns the word. "Coeur d'Alene, meet your next mayor," begins a Press editorial previewing its mayoral coverage. Like every mention of the "mayor" since the first week of September, the word is underlined and highlighted in blue. But click on the link, and it doesn't lead to mayoral candidate profiles, the City Hall website, or previous Press articles. Instead it links directly to Widmyer's campaign site. The context doesn't matter. Stories mentioning Coeur d'Alene mayor Sandi Bloem, New York mayor Michael Bloomberg, mayors in Rathdrum and Post Falls — all had the word "mayor" linked to Widmyer's site/Daniel Walters, Inlander. More here.
Thoughts?
---
---