Tue., Sept. 24, 2013, 4:46 p.m.
Cruz: I'll Speak Till No Longer Can
Congress continued its steady march toward a government shutdown Tuesday with another round of posturing but little action to keep the government running past next Monday. Both the Democratic and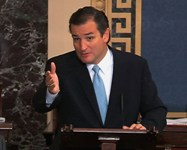 Republican leaders in the Senate seemed poised to speed up a vote on a spending bill from House Republicans that would have funded the government through Dec. 15 but stripped out funding for the Affordable Care Act. Many Senate Republicans were prepared to vote for the measure, which they favored, and Democrats were ready to get their hands on the bill so they could amend it and restore funding for the law. But that possibility ground to a halt as Sen. Ted Cruz, R-Texas, took to the Senate floor to deliver a lengthy speech (that technically is not a filibuster, because of the Senate's procedural rules). He began talking at 2:41 p.m. ET, announcing that "I intend to speak against Obamacare until I am no longer able to stand"/CBS News. More here.
Question: Do you support Cruz's filibuster?
---
---