Tue., Sept. 24, 2013, 1:50 p.m.
Little Influence Beats Bestiality
In the tongue-in-cheek "United States of Shame" report, Idaho is known as the state with the least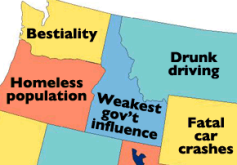 congressional clout, which may surprise some who've seen U.S. Rep Raul Labrador and U.S. Sen. Jim Risch before the nation's cameras fairly often. Also, it might surprise those who realize how influential U.S. Rep Mike Simpson is. However, Idahoans might appreciate that designation when compared to Washington (bestiality), Oregon (homelessness), Montana (drunk driving), Wyoming (fatal car crashes), and Utah (pornography). You can see what all the states are known for here. (Illustration: Pleated Jeans/PolicyMic)
Question: What should Idaho be known for?
---
---