Tue., Sept. 24, 2013, 5:21 p.m.
Reed: Progress Doesn't Just Happen
ities are us," I heard someone say, somewhere, sometime, and the simple message stuck. At home, across the seas, around the world, real action is in the cities, where the majority of people live. Urban activity rocks,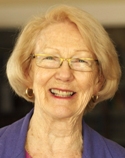 even in potato-labeled Idaho with its miles of open space. Last month we squired friends from Montana around Coeur d'Alene to show off the many changes taking place in our town. First the transformation of the downtown McEuen Park, still a work in progress, then the 6-year-old city library building, then on to the new Kroc Center, which is already in the process of expansion. Next the tour took us to the expanded sewage treatment plant and its giant microbe art sculptures, then to the large public art pieces by artists Michael Horswill, CJ Rench and Allen and Mary Dee Dodge on the campus of North Idaho College. How, asked our friends, in conservative, unbelievably red-state Idaho, can so many progressive projects be taking place? Our answer: The city and its leaders are making it happen. While the very conservative legislature shortchanges public schools and state universities, Idaho cities march ahead to supply necessary services in as attractive a setting as their communities can afford/Mary Lou Reed, Inlander. More here.
Thoughts?
---
---