Wed., April 9, 2014, 1:07 p.m.
'Date Grape' Biz In Hot Water Again
Gonzaga University has filed suit against Jamie Pendleton, the owner of Spokane Downtown Daiquiri Factory, for using Spike, the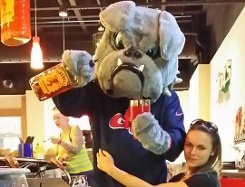 Gonzaga Bulldogs mascot, and Gonzaga University's trademarks to promote his business. A suit was filed Tuesday on behalf of the Corporation of Gonzaga University against Pendleton Enterprises, LLC, Pendleton Broadcasting, Inc. and Jamie Pendleton. The suit claims that Pendleton (who earlier this year introduced Date Grape Koolaid) has been using Gonzaga University's trademarks -- including Spike -- to promote his businesses. A nine-page addendum to the suit is filled with pictures of a person dressed as Spike, wearing a Gonzaga University sweatshirt with a bulldog head and paws, in various scenes either acting as a DJ for 104.5 JAMZ, standing in front of the establishment, holding a bottle of Fireball liquor inside the bar or holding a glass next to a beverage machine with a stenciled name on its face that reads "Bulldog Lemonade"/Rob Kauder, KXLY. More here. (Photo: KXLY)
Question: Do you think the Daiquiri Factory doesn't get it? Or are they using controversy to promote their business?
---
---