Mon., April 28, 2014, 8:35 a.m.
SR: Fighting Obamacare Futile
Republican candidates in Idaho's primary are being surveyed to gauge their fealty to the state GOP's platform, which includes a call to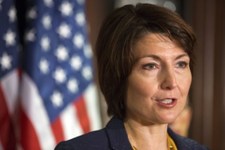 repeal Obamacare and resist implementation. But party officials should take their cue from the realists among them. While they may not like the law, they see that the battle is over and further resistance is counterproductive. "It is the law, so I'm trying to work in that context," Michigan Gov. Rick Snyder told USA Today. U.S. Rep. Cathy McMorris Rodgers, pictured, told the S-R editorial board much the same on Thursday, saying the law is likely here to stay and the focus should be on reforming the exchanges to offer more choices and ensure that the newly covered can gain access to doctors. Idaho Gov. Butch Otter, who wisely refused to sign the loyalty oath, doesn't like Obamacare either, but he knows when it's time to stop debating and start governing. He has supported the state Legislature's decision to establish its own exchange/Spokesman-Review Editorial Board. More here. (AP file photo)
Question: Do you suppose that all the uber-con GOP legislative candidates lined up to fight Obamacare in Idaho realize that their fight is futile -- that they're just trying to score points with followers? Or do they really think they have a chance to torpedo the Supreme Court-approved law?
---
---