Wed., April 30, 2014, 8:17 a.m.
McMorris Rodgers Miffs Tea-publicans
Comments from U.S. Rep. Cathy McMorris Rodgers about the future of the Affordable Care Act published last week have incited a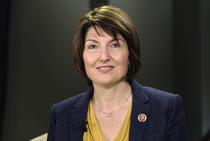 firestorm of criticism among right-leaning media outlets suggesting surrender by the GOP. In an unrecorded interview with a reporter, two opinion-page editors and the publisher of The Spokesman-Review on Thursday, McMorris Rodgers was asked whether the news that 600,000 Washington residents had signed up for new health care plans through the state exchange signaled that "Obamacare" was here to stay. "Probably," the five-term congresswoman and chairwoman of the House Republican Conference said. She then laid out ways in which those exchanges could be reformed in order to provide what she called greater choice for consumers, many of which would require major reforms to President Barack Obama's signature health care law/Kip Hill, SR. More here. (AP file photo)
Question: Do you think that deep down in their hearts that the Tea-publicans know that McMorris Rodgers is right -- that Obamacare isn't going to be repealed?
---
---