Wed., July 23, 2014, 8:57 a.m.
TV Crew Seeks Bigfoot Near Moscow
Representatives of a production company involved with the TV series "Finding Bigfoot" recently sought approval from Troy officials to shoot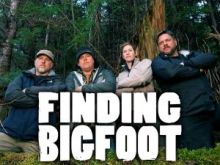 footage in the area of Moscow Mountain. The crew is expected to shoot twice overnight and wrap up by the end of the month, said Rhonda Case, Troy city clerk."Finding Bigfoot" is in its fifth season on Animal Planet. Its premise is "investigating compelling evidence that may prove the existence of the elusive creature," according to promotional material created by its producers.The crew coming to the area is led by Robert "Sean" Mantooth, a 1995 graduate of Washington State University. He is listed as a producer for the cable television program/Terry Harber, Moscow-Pullman Daily News. More here. (Animal Planet/Daily News photo: Cliff Barackman, Matt Moneymaker, Ranae Holland and James "Bobo" Fay are the crew of "Finding Bigfoot," a series on Animal Planet)
Question: Why do people believe that Bigfoot exists?
---
---