Wed., March 5, 2014, 2:56 p.m.
9th Blogiversary: Simple Mind
Cis posts of her blog, From A Simple Mind: "I am 9 years old today. ... I was born out of boredom. I think. It was late at night. And just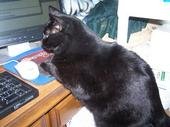 because she saw the words. Anyone can blog, it is as easy as 1.2.3. So she thought she would give it a try. A blog -- a weird type of a name. Not known by many. And face of questional expressions when the word was said. And an explanation was needed. And in those 9 years, blogs have come on like gangbusters. And now they are getting to be things of the past. There are still a lot of them out there. Every newspaper has many. So do magazines. Ways to keep in touch with their readers. But for the personal ones, they are becoming less and less. More here.
Question: If 1 dog year equals 7 human years, how many years do you use of your life for every year of blogging?
---
---