Wed., March 5, 2014, 8:39 a.m.
Hospital Unveils $57M Expansion
Kootenai Health is outgrowing its hospital. That's why hospital trustees have authorized the first phase of construction in what could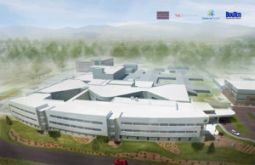 become a bigger five-year project, with phase I providing a $57 million, three-story addition and new main hospital entryway on the north side of the existing facility. Construction on the first phase - the first patient-care expansion in 30 years - is scheduled to start late this summer or early fall, with a target completion date of late next year, Kootenai Health CEO Jon Ness said Tuesday. And he's not complaining about the growing pains. "I think what's uncommon about this is that many hospitals now are experiencing decreases in their inpatient census and we are experiencing increases," Ness said. "Over 18 months, we've increased our confidence that this is the right thing for the hospital, the right thing for patients and it's the right thing for this community/Mike Patrick, Coeur d'Alene Press. More here. (Courtesy Photo: Kootenai Health)
Question: Have you or a family member been treated at Kootenai Health recently?
---
---