Wed., March 5, 2014, 8:45 a.m.
Lake Property Available For Bitcoins
It's going to be interesting to see what prime real estate on Lake Coeur d'Alene goes for in the digital currency known as Bitcoin. Hayden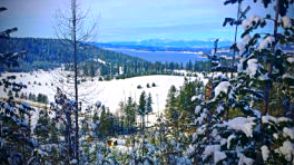 resident Alan Golub is selling a package of 660 contiguous acres overlooking Moscow Bay that includes the site of the once proposed and controversial Chateau de Loire development. He is seeking a virtual pile of bitcoins. Golub was a real estate agent involved in the sale of approximately 570 acres to Kirk-Hughes Development, which attempted to establish Chateau de Loire. That proposed development featured French-themed luxury housing and a golf course. Las Vegas-based Kirk-Hughes contracted to buy the land, but it ultimately didn't pay the real estate commission of $941,000, sparking multiple lawsuits, Golub said. He filed a lawsuit of his own, alleging fraud/David Cole, Coeur d'Alene Press. More here.
Question: How much do you know about Bitcoins?
---
---