Fri., March 7, 2014, 1:38 p.m.
Disabilities Often Equals Dependence
A thief stole the Moscow Special Olympics team's sporting equipment last month, and with it their chance to compete at the State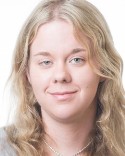 Winter Games on March 1. Fortunately, the Moscow community and others rallied around the team with donations and an outpouring of support that enabled them to compete. The kind gesture penetrates deeper than most would realize. Because unfortunately, the reality of living with a disability is one of dependence and reliance on community support and technology. This reality of dependence is not one that Hollywood or general culture would believe exists. News stories on people with disabilities often feature people "overcoming" their disabilities and accomplishing amazing things/Aleya Ericson, UI Argonaut. More here.
Question: Do we overplay the disabled superheroes to the detriment of those who struggle mightily with disabilities?
---
---