Fri., March 7, 2014
Jeers For Income Tax Cut Vote
In his weekly Cheers & Jeers column, Opinion Writer Marty Trillhaase of the Lewiston Tribune gives Jeers to ... to House Republicans who backed GOP floor leader Mike Moyle's plan to slice another $126 million from Idaho income taxes:
Moyle's scheme cleared the House on a 55-13 margin. If it becomes law, it will further undermine Idaho's ability to recoup the damage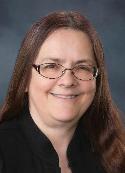 years of tax cuts and recession have inflicted on public school and higher education budgets. Why would anyone whose district includes the University of Idaho vote to do that? Yet, Rep. Cindy Agidius, R-Moscow, went along. Why would anyone who represents Lewis-Clark State College, follow in her path? Yet, Rep. Thyra Stevenson, R-Lewiston, did just that. Reps. Shannon McMillan (pictured), R-Silverton, and Paul Shepherd, R-Riggins, don't have a university in their backyards. But their constituents might want to ask why they voted for a rich person's tax break. Moyle's plan would save someone making $30,000 all of $13 a year. But the individual making $300,000 would save $1,633. Complete Cheers & Jeers column here.
Question: Which legislative body has a worse collection of lawmaker -- the Idaho Senate or the Idaho House? Please explain your answer.
---
---