Fri., March 7, 2014
Trib Cheers Goedde's ENA Stand
In his weekly Cheers & Jeers column, Opinion Editor Marty Trillhaase of the Lewiston Tribune gives Cheers to Senate Education Committee Chairman John Goedde, R-Coeur d'Alene:
He wants to pull the plug on state school Superintendent Tom Luna's sweetheart deal with a corporate crony. Last summer, Luna took a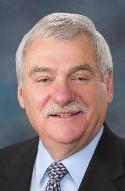 one-year, $2.25 million appropriation and transformed it into a 15-year, $33.75 million contract for Education Networks of America. The Nashville, Tenn.-based company would provide Wi-Fi in the high schools. ENA contributed $6,000 to Luna's campaigns and its Idaho director, Gary Lough, once worked for the superintendent. Goedde wants to tear up the contract and allocate Wi-Fi money directly to the schools. Large districts have the resources to establish their own networks. Any money they save is theirs to spend on other technology. Smaller schools may stick with ENA or find another contractor willing to do the work for less money. More here (as well as the complete Cheers & Jeers column)
Question: I think Sen. Goedde has had the best session of any Kootenai County legislator. How about you?
---
---