Fri., March 7, 2014, 4:05 p.m.
Wanted: Fortgrounds Tales
North Idaho College wants to help you tell your story. From now until April 15, NIC interviewers are seeking participants for the "Stories of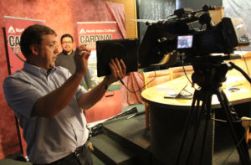 the Gathering Place" project. Storytellers are asked to tell a two-minute story on camera about an experience they had that relates to the Fort Grounds neighborhood and NIC area, which has traditionally been a "Gathering Place" for centuries. "There are so many important stories out there that we want to preserve for future generations," said Max Mendez, NIC Cardinal Connections director. They hope to hear from people with connections to the Fort Grounds and NIC - mill workers, people who grew up there, a tug boat operator, a Coeur d'Alene tribal elder, students/Coeur d'Alene Press. More here. (NIC Press Club photo: North Idaho College Technology Coordinator Andy Finney sets up the camera in the NIC studio to film Cardinal Connections Director Max Mendez recently)
Question: Do you have a connection to Coeur d'Alene's historic Fortgrounds?
---
---