Mon., March 31, 2014, 4:08 p.m.
Ex Oregon Coach To Head WSU Men
Bill Moos enjoyed hiring Ernie Kent so much that he decided to do it again. Kent has been hired by Washington State athletic director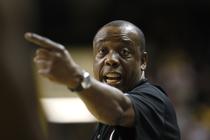 Moos as the school's new men's basketball coach. Kent was signed to a five-year rollover contract. ... Kent was previously hired by Moos at the University of Oregon in 1997, where he coached for 13 years. He has been working as a college basketball analyst for the last three years, first with Fox Sports Net and then the Pac-12 Networks. Kent led the Ducks to a 235-174 record and five NCAA tournament appearances in his time at UO. The Ducks made it to the Elite Eight in 2002 and returned in 2007. He also took the Ducks to two NIT Final Fours/Jacob Thorpe, SR. More here. (Photo by Rick Bowmer: Former Oregon men's basketball coach Ernie Kent has been named the basketball coach at Washington State)
Question: Is this a good pick?
---
---