Fri., Oct. 3, 2014, 8:28 a.m.
Jeers: Boss Denney & Fingerprinting
In his weekly Cheers & Jeers column, Opinion Editor Marty Trillhaase of the Lewiston Tribune offers jeers ... to Boss Denney: "Last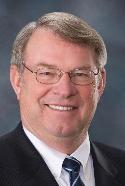 month, the Idaho GOP nominee to become secretary of state, and therefore guardian of honest elections, published this in the Idaho Statesman: "One of my priorities is to work on measures to enhance the security of the election process, such as new technology that scans either signatures or fingerprints." Now he's playing the victim. "I've been in and seen a lot of political wars, and certainly I have received my share of cheap shots by the media," he wrote in a fundraising letter. "The most recent came from my own studpidity (sic) in a guest editorial. ... My bad. I was talking about the technology but by mentioning fingerprints, now the media says that I want to fingerprint all voters." Where would anyone get such an idea? Could it be from the fact that Idaho already scans signatures on voter registration cards? The only guy who mentioned fingerprints was Denney. Full Cheers & Jeers column here.
Question: Are you beginning to have misgivings about state Rep. Lawerence "Boss" Denney?
---
---