Tue., Oct. 21, 2014, 8:44 a.m.
City Asks Hitching Post To Quit Suit
The city of Coeur d'Alene has asked the Hitching Post to withdraw its religious freedom lawsuit in the wake of gay marriage becoming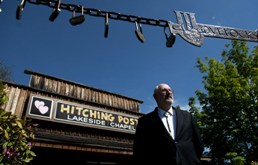 legal in Idaho. City attorney Michael Gridley wrote to the wedding chapel and pointed out that two weeks ago the business took steps to become a nonprofit religious corporation. Thus, the Hitching Post is exempt from the city's ordinance that outlaws discrimination on the basis of sexual orientation. Gridley said the city will not prosecute legitimate nonprofit religious corporations, associations and other organizations exercising First Amendment rights. The Hitching Post sued the city in anticipation that the city would use its anti-discrimination policy to force the chapel to perform same-sex weddings over its religious objections/SR. (SR file photo: Owner Don Knapp stands in front of the Hitching Post)
Thoughts?
---
---