Thu., April 2, 2015, 1:26 p.m.
Love Soars After Rocky Start
The adage "you only get one chance to make a first impression" may be true, but luckily for George Peabody, a beautiful brunette named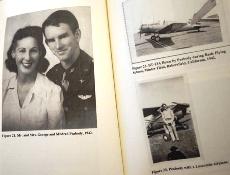 Mildred Baker gave him a second chance. The two met on a blind date in May 1941. A co-worker had pestered Mildred to meet George. "She asked me a couple times, but I refused at first," recalled Mildred. Finally, she agreed. Since the outing was a picnic, she splurged and bought new white sandals for the occasion. Mildred and George hit it off and were having a lovely time until he offered to carry her across a creek so she wouldn't damage her pretty new shoes. "He picked me up and dumped me in the creek!" she said. "I lost my white sandals! I'd saved and saved to buy them. I finally found one – just one"/Cindy Hval, SR. More here.
How important is it to make a good first impression?
---
---