Tue., April 14, 2015, 2:34 p.m.
DUI Driver Who Killed 3 Released
Frederick Russell, convicted of killing three Washington State University students and injuring four others in an auto crash, has been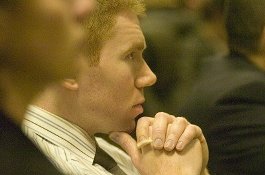 released from prison. Russell served seven years of his 14-year sentence. Russell, who's now 36, was released from Larch Corrections Center Tuesday and will spend the next 18 months under the supervision of the California Department of Corrections. He was speeding along State Route 270 between Moscow, Idaho, and Pullman on June 4, 2001, when he attempted to pass another vehicle. His vehicle collided with the car, lost control and collided with a second car. He was legally drunk at the time of the crash; he'd bought a 1.5 liter bottle of vodka, drank it at a house party that night and then had about two Guinness beers at a local bar before getting behind the wheel of his Chevy Blazer. Killed were WSU students Stacy Morrow, Ryan Sorensen and Brandon Clements/SR & AP. More here. (2008 SR file photo: Frederick Russell listens in a Whitman County courtroom in Colfax)
DFO: 7 years doesn't seem like much time for a drunk who killed 3 and then ran from the law for awhile before being recaptured. Thoughts?
---
---