Tue., April 14, 2015, 1:21 p.m.
Sen. Mortimer Made A Difference
One of the first things Sen. Dean Mortimer (pictured) changed when he was appointed chairman of the Senate Education Committee was set his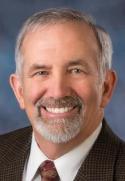 alarm clock to 4:30 a.m. On the first day of the session, Gov. Butch Otter laid out a challenge to lawmakers: Increase public school funding by 7.4 percent and replace the state salary reimbursement grid with a new plan that raises pay and accountability. Much of that work would fall to Mortimer, an Idaho Falls Republican, and his counterpart, House Education Committee Chairman Reed DeMordaunt, an Eagle Republican. Education is not new to Mortimer, who started his career in the House on the education committee and spent the past three sessions on the Senate panel/Clark Corbin, IDEDNews.org. More here.
Question: Can you think of any other legislative heroes in the 2015 session?
---
---