Mon., April 27, 2015
Have You Ever Eaten Alligator? This Old Gator Has … Recently
Junior calls this Facebook photo of his, "An Old Gator Eating Gator." It was taken at The Yearling restaurant in Cross Creek, Fla., home of Pulitzer Prize-winning author Marjorie Kinnan Rawlings. Yeah, those are alligator nuggets in the plate. BTW, that's Willie "Big Toe" Green (over my shoulder b/n guy in white T-shirt & me) singing blues in the background. He once fronted for such legends as Eric Clapton.
At The Yearling restaurant in Cross Creek, Fla., Friday, I passed on the "Cracker's Special" for $16.95 -- a sampling of frog legs,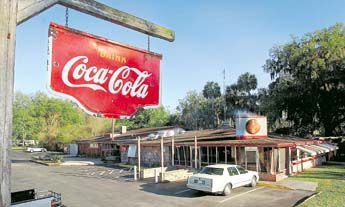 alligator tail, venison, shrimp & fried green tomatoes. The frog legs was the deal breaker. (Yeah, I know, they taste like chicken.) Instead, I opted for a catfish sandwich with alligator nuggets and grits and a side order of hush puppies. I also passed on the sweet tea -- southern sweet tea being 3/4s glass of sugar and 1/4 glass of tea. The restaurant was about a stone's throw from author Marjorie Kinnan Rawlings' old Florida home on the edge of the swamp. Rawlings wrote the Pulitzer Prize-winning novel, "The Yearling," from which the restaurant claims its name. While I enjoyed my southern feast (and wished I'd ordered more gator nuggets), waitress Wendy told us about the troublesome bull gator who entertains female gators in the swamp just behind her back fence and Willie Green sang the blues for lunch guests nearby. I have eaten gator one other time -- at Babin's Corners near Prichard, up the Coeur d'Alene River. Some Floridians had brought gator and turtle with them to share with the locals prior to their annual hunt in North Idaho. I was friends with the daughter of the cook who fried them up. And enjoyed them immensely. Still do.
Question: How about you? Have you ever eaten alligator?
---
---