Thu., April 30, 2015, 5:04 p.m.
Expert: Don't Plant Garden Yet
Hang on a minute folks. By the way the tomato plants were flying out of the WSU Spokane County Master Gardener Garden Fair last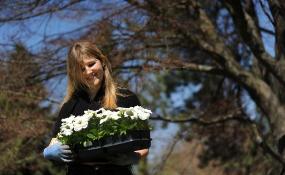 Saturday you'd think the vegetable gardening season was in full swing. It's not. It's too early to plant tomatoes, peppers, eggplant, squash, melons, cucumber and especially basil. Yes I know the snow is off Mica Peak, but that bit of local garden lore doesn't hold this year. In reality, all the warm-season crops need much warmer air but especially warmer soil before they can take off growing. Late May is a better time to plant. Placing them in cold soil shocks the plant into a state of dormancy that can stunt their growth to such an extent that they don't readily recover enough energy to grow properly/Pat Munts, SR. More here. (SR file photo: Lena Walker carries petunias for planting at her home in Coeur d'Alene in April 2012)
Question: Have you planted any warm-weather crops yet?
---
---